ANNANN & A REAL TIGER!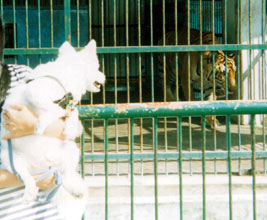 "ANNANN, look! A tiger!" Said my sister Celine.
"Put me down! I am going!" Struggled ANNANN.
"Come on, just a tiger behind bars, nothing to be afraid of..... Say 'Cheese'....." Me held a camera.
"You--- you--- you did it on purpose!!!" Trembled ANNANN.
.....YES, WE DID.

***Click HERE to go back.***