For MBz

On 2004/02/27 MBz forwarded an article about doggies to me.
I read it again and again with a smile in my face...
MBz also do several similar things.
So did ANNANN, it's quite annoying but now she's gone, I miss everything she ever did to us even more.
Here I post it to share with all dog people whose doggies also do these annoying things that make us love them more.
Thank you MBz and the BOYZ, I really enjoy this stuff!!!




Things I must remember
WHEN I DIE
AND
COME BACK AS A DOG....

***Note: I will post the author's full name when I find out who wrote this article.





1. The garbage collector is not stealing our stuff.
MBz:[Sultan doesn't even like people walking on our grass]


2. I do not need to suddenly stand straight up when I'm lying under the coffee table.
MBz:[Can someone go check Rostam head for lumps?]


3. I will not roll my toys behind the fridge, behind the sofa or under the bed.
MBz:[No problem for Rostam here...he makes you go get it out for him!]


4. I will not eat the cats' food, before they eat it or after they throw it up.
MBz:[This is really why cats and dogs don't mix well. Yuck!]
P.S. I remember ANNANN ate her food again after she threw it up. Yuck!


5. I will not throw up in the car.
MBz:[More like, I will not lick the windows and draw abstract art with my wet nose!]
P.S. ANNANN always licked the car windows, very difficult to wipe it off.


6. I will not roll on dead seagulls, fish, crabs, etc. just because I like the way they smell.
MBz:[Sultan needs a stinky fish perfume to kick this habit]


7. I will not eat any more Kleenex or napkins and then redeposit them in the living room after processing.
MBz:[Rostam and Sultan are both guilty here]
P.S. ANNANN enjoyed tearing Kleenex to shreds like a beast.


8. I will not chew my human's toothbrush and not tell them.
MBz:[I would be happy if they were brushing on their own...forget about who's toothbrush]


9. I will not chew crayons or pens, especially not the red ones, or my people will think I am hemorrhaging.
MBz:[Thank goodness there are no crayons here]


10. When in the car, I will not insist on having the window rolled down when it's raining outside.
MBz:[...or roll the window down myself. Doggie safety locks are needed here]
P.S. ANNANN rolled down the car window when we forgot about the safety locks.


11. I will not bark each time I hear the doorbell on TV.
MBz:[Sultan is famous for false alarms]


12. I will not steal my mom's underwear and dance all over the backyard with it.
MBz:[Sultan is really a good boy in this case, he only plays with my underwear in the privacy of our house:]


13. The sofa is not a face towel.
MBz:[It is after Sultan gets a bath! And forget about the bed..]


14. My head does not belong in the refrigerator.
MBz:[This applies more to Nephi, the rabbit..hehe I keep his food in the frig to keep it fresh]


15. I will not bite the officer's hand when he reaches in for mom's driver's license and car registration.
MBz:[Rostam is smarter than that! He helps Momma by sticking his head out so the officer can appreciate his cuteness for petting while his mom makes innocent faces. Sultan on the other hand, suspects the officer is one of those "bad cops."]


16. I will not eat mint flavored dental floss out of the bathroom garbage, because I don't want to have a string hanging out of my butt.
MBz:[The boyz know to call Momma for help with extraction operations at this magnitude.]
P.S. When ANNANN was a pup, several times we found a rubber-band string hanging out of her butt...


17. Sticking my nose into someone's crotch is not an acceptable way of saying hello.
MBz:[Yeah, Rostam! Cham is a Slide Dog--he only does this to pretty girls;]


18. I will not hump on any person's leg just because I thought it was the right thing to do.
MBz:[Another one to the rabbit. No chicken legs here, Nephi perfers natural smelling hands. Think about that next time you sake my hand..hahaha Maybe I shouldn't tell you this since I may be eliminating any existing job prospects...hehe]




******************************************************


Want to know more about MBz? You can go to four places:
1. ANNANN's E-FRIENDS with many photos.
2. CAMLLPM1 (old album) and Photo Albums by rostam112 (present album) with all the photos.
3. HUSKY CHAT II MBz's ID is "Momma's Boyz".


_/_/_/_/_/_/_/_/_/_/_/_/_/_/_/_/_/
_/_/_/_/_/_/_/_/_/_/_/
_/_/_/_/_/_/_/ <!!!SAVE STRAY DOGS IN TAIWAN AND AROUND THE WORLD!!!>

Question:
Do you know the fact that there are more than two million (2,000,000) stray dogs in Taiwan, while Taiwan has only an area 16 times smaller than France?

...If you would like to know what's happening to stray dogs in Taiwan;

....If you would like to help saving stray dogs in Taiwan;

.....If you would like to adopt stray dogs in Taiwan;

Please go to our "Save Stray Dogs In Taiwan" webpage:




And please also visit these K9 websites around the world: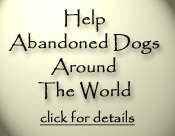 <!!!SAVE STRAY DOGS IN TAIWAN AND AROUND THE WORLD!!!>


P.S. Turn on your speakers if you love music as much as ANNANN does, and if this noisy midi song doesn't bother you.....
This song is "O MIO BABBINO CARO" from Gianni Schicchi.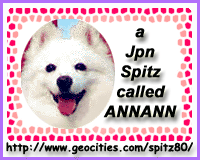 (Banner Exchange? Click ANNANN's Banner!)
"A SPITZ CALLED ANNANN"
*This is a no-kill non-profit canine website established on June/02/Y2K.
**Copyright © 2000 All ANNANN's photos appear on this website belong to ANNANN & CHEN. Always ask ANNANN & CHEN for permission before you use ANNANN's photos.
***Copyright © 1999, 2000 All 3D graphics and animations appear on this website are free samples provided by
www.animfactory.com


---