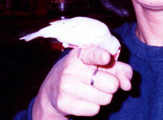 ANNANN's favorite bird LASSIE was a cute Paddy bird, in stead of a Rough Collie. How did LASSIE come to my family was a miracle. One night several years ago, my mom just came out of the bathroom, a Paddy bird flew in through an open window. This little creature perched on my mom's shoulder and would't leave. We named this cute Paddy bird "LASSIE".
_/_/_/_/_/_/_/_/_/_/
_/_/_/_/_/_/
LASSIE liked to tease ANNANN and ANNANN wanted to pluck LASSIE badly. I guess they both considered my dad the "King" and themselves the "Queen" of the house. And that meant if we got them two together, either side would kick off a war. All we could do is seperate them. Oh, ANNANN never got to pluck LASSIE so there's no need to worry about her.

Go To Top
---
50/50
(The Park / The Vet):
Usually when going out, my sister Celine sat in the front seat and ANNANN sat in her lap. If Celine lowered the window, ANNANN always liked to stick out her head to enjoy the breeze (I think most dogs enjoy the same thing).
_/_/_/_/_/_/_/_/_/_/
_/_/_/_/_/_/
Still one mile (or 2-3 blocks) away, ANNANN began to react. If going to the park, she began to get excited and couldn't wait to get off my car; BUT if going to the vet, like I said, ANNANN always jumped to the back seat and hid her head.
(I guess ANNANN believed if she couldn't see us, we couldn't see her, either.)

Go To Top
---
"ANNANN, look! A tiger!" Said my sister Celine.
"Put me down! I am going!" Struggled ANNANN.
"Come on, just a tiger behind bars, nothing to be afraid of..... Say 'Cheese'....." Me held a camera.
"You--- you--- you did it on purpose!!!" Trembled ANNANN.
.....YES, WE DID.

Go To Top
---
THE 'CURSOR' BUG
Try this to see if your pet(s) will do the same thing:
_/_/_/_/_/_/_/_/_/_/
_/_/_/_/_/_/
One day I happened to put my word processor on the floor. While I was typing, ANNANN's eys suddenly sparkled like stars. Guess what she got excited about!? The cursor!!!

ANNANN rushed to my word processor, reaching out her paws trying to scratch the "BUG" off the monitor. As soon as I realized what she was up to, I let the cursor run in all directions until ANNANN began to get upset and growled at the stubborn "BUG".....

Go To Top
---
A TUG OF WAR
If you've already visited ANNANN's photo album, have you noticed that ANNANN hardly wore a collar at all? Because she hadn't worn that thing for a very long time. Years ago, everytime we took ANNANN out, she always got so excited that she dragged my sister Celine or me all the way. Moreover, ANNANN liked to go the opposite way. If we went east, she went west. If we pulled the leash, she got choked. Just like we were playing a tug of war. In the end, both sides were losers because ANNANN choked badly, and we could only follow wherever she went to prevent her from being choked.
_/_/_/_/_/_/_/_/_/_/
_/_/_/_/_/_/
What could we do to help ANNANN stop being choked by her own collar and leash? At that time, shoulder belts were difficult to find in Taiwan. So we handmade one for ANNANN. Since then, ANNANN never wore her collar again. She never got choked by that thing, either. In fact, she wore nothing at all when she was at home or when going on a picnic. ANNANN wore her personalized shoulder belt and leash only when we walked on the street where cars were here and there. So no more tug of war.

Go To Top
---
CRYING WOLF TOO OFTEN
We are a happy family. Still, we cry because of anger or sadness from time to time. It happened when ANNANN saw us cry for the very first time......
_/_/_/_/_/_/_/_/_/_/
_/_/_/_/_/_/
I don't remember what made my sister Celine cry like a baby. She cried and she cried and suddenly, ANNANN walked gently up to her, licking her face and hands, then laying herself down right beside Celine until Celine stopped crying. Months later, it was I who cried and ANNANN did exactly the same thing to me. You may think we were stupid, but we really didn't know that dogs would comfort their human when they saw their human cry. We thought to ourselves, "Isn't it fun!?" Since then, we pretended crying to trick ANNANN and she bought our silly stories 3, 4 times. Then one day, ANNANN stopped comforting us ever again, no matter we were tricking her or crying for real. She just fixed her big bright eyes on us from a distance and she did nothing else. Probably she was thinking to herself, "CRYING WOLF TOO OFTEN, you stupid human....." ANNANN taught us a lesson and it served us right !!!

Go To Top
---
PLEASE QUEUE UP, "EVERYBODY"
There are 5 humans and 1 dog in my family. But there are only 2 bathrooms in our house...

SO WHAT HAPPENS WHEN BOTH BATHROOMS ARE OCCUPIED?
Simple, we queue up.


SO WHAT HAPPENS WHEN ANNANN WANTS TO USE THE BATHROOM, TOO?
Simple, ANNANN queues up, too! We never taught ANNANN this but she just knows what to do.


SO WHAT HAPPENS WHEN ANNANN CANNOT WAIT ANY LONGER?
Simple, she walks up to the bathroom and "knocks"... I mean "scrtches" the door asking for permission to get in.


SO WHAT HAPPENS IF THE HUMAN INSIDE THE BATHROOM DOESN'T LET ANNANN IN?
Simple, she begins sniffing the bathroom doormat, going round and round it 5-6 times, leaving her "mark" on that poor thing, kicking her hind legs then panting happily walking away.....



Go To Top




---

Remember that ANNANN didn't wear her shoulder belt at home, and she was not chained, and she was allowed to go to every corner in our house? Well, that also meant she could "go anywhere" she wanted to. And here were what happened before we moved house:

In front of our old house, there was a small park where ANNANN liked to go there and play. Our old house was on the 3rd floor, ANNANN always stood on the balcony watching other dogs playing in that park. One evening, my sister Celine and I stood on the balcony watching a muddy Japanese Spitz dog playing alone in the park. "Isn't that Spitz look just like our ANNANN?" said Celine. "Yeah! Just look how happy that Spitz is!!!" I replied, "Where is ANNANN? Let's hold her up and let her watch that Spitz playing. She would be thrilled to meet another dog of her own species." Good idea. So... Where was ANNANN!? We looked for her all over the house but she just wasn't there!!! Oh no... Celine and I rushed out of our house to the park and caught that muddy Spitz...

...Several days later, one sunny afternoon, my brother Frank was about to go out. He opened the front gate but he didn't lock it up immediately. ANNANN didn't miss the perfect chance. She ran and she ran and she ran so fast that Frank finally caught her three blocks away from our house...

...Several days later, another evening, Celine and I were going to the supermarket. Just 100 meters away from our house, we noticed that a Japanese Spitz was following us. "It's ANNANN! She is running away again!! Get her!!!" Celine and I chased ANNANN all the way down to the dead end of an alley, ANNANN suddenly turned around and started to growl at us. ANNANN growled at us!? Then we found that "ANNANN" was a "he"... We hurried home and we saw our ANNANN was watching evening news with my dad in the living room...

After all these happened, we always made sure where ANNANN was before we opened or locked up the front gate.



Go To Top




---

Before you read on, please keep in mind that we love ANNANN and we did not harm her.....

We liked to play with ANNANN. Sometimes we dressed her up, sometimes we played catch, sometimes we chased each other in the park. But there was a game which required a high EQ to play it.

My sister Celine and I share a room. We let ANNANN slept in our room whenever she looked sleepy. ANNANN liked to lie in the middle of her blanket when she took a nap. Believe it or not, she snored when she slept! ANNANN often snored like a baby. When she began to snore, when we made sure she wouldn't notice what we were up to, we lifted the corners of her blanket abruptly, swinging her in midair until she waked up surprisingly and began to growl at us. When we let her land on the floor, ANNANN always ran out of our room in anger and barked for several seconds, then returned to our room with a smile on her face and went back to sleep. If we did it again, ANNANN would run out and would bark and would return with a smile and would go back to sleep again. She's got a high EQ.



Go To Top

_/_/_/_/_/_/_/_/_/_/_/_/_/_/
_/_/_/_/_/_/_/_/_/_/_/
_/_/_/_/_/_/_/

>>>Back To Episodes #11-18.....

<!!!SAVE STRAY DOGS IN TAIWAN AND AROUND THE WORLD!!!>

Question:
Do you know the fact that there are more than two million (2,000,000) stray dogs in Taiwan, while Taiwan has only an area 16 times smaller than France?

...If you would like to know what's happening to stray dogs in Taiwan;

....If you would like to help saving stray dogs in Taiwan;

.....If you would like to adopt stray dogs in Taiwan;

Please go to our "Save Stray Dogs In Taiwan" webpage:




And please also visit these K9 websites around the world: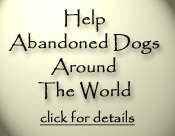 <!!!SAVE STRAY DOGS IN TAIWAN AND AROUND THE WORLD!!!>


P.S. Turn on your speakers if you love music as much as ANNANN.
This song is "O MIO BABBINO CARO" from Gianni Schicchi.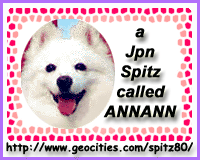 (Banner Exchange? Click ANNANN's Banner!)
"A SPITZ CALLED ANNANN"
*This is a no-kill non-profit canine website established on June/02/Y2K.
**Copyright © 2000 All ANNANN's photos appear on this website belong to ANNANN & CHEN. Always ask ANNANN & CHEN for permission before you use ANNANN's photos.
***Copyright © 1999, 2000 All 3D graphics and animations appear on this website are free samples provided by
www.animfactory.com


---