Like a child, ANNANN is interested in everything! Here are what ANNANN likes or doesn't like.....
(1). ANNANN'S LIKES...
01. FOOD.....almost anything edible;
02. MUSIC.....from classical to rock'n'roll. ANNANN likes Verdi's "La Traviata" a lot;
03. SINGING.....along when I play the piano. ANNANN barks at me if I hit a wrong key, and she barks as loudly as a crash of thunder that might hurt my eardrums;
04. OUTDOOR SPORTS.....especially catching a toy ball, jogging, hiking and picnicking. ANNANN is a good athlete and she has sportsmanship;
05. PARKS & PLAYGROUNDS.....where ANNANN can leave her "marks";
06. MY CAR.....ANNANN likes cruising and like I said in the "A Pet More Than A Pet" webpage, to hop in my car means 'to go out and play' or 'to go to the vet', she knows the chances are 50/50;
07. REFRIGERATORS & OVENS & MICROWAVES.....because ANNANN sees food coming out from there;
08. QUILTS & BLANKETS & CUSHIONS.....ANNANN likes to sleep on things soft and warm;
09. NEWSPAPER.....ANNANN enjoys shredding newspaper to pieces;
10. BUGS.....yes, bugs, especially cockroaches. ANNANN always flips them upside-down with her paws, then dissects them. She would be a biologist if she was human;
11. BIRDS' BUTTS.....we got a birdcage with several birds in it. If any one of them accidentally reaches its butt out of the cage, ANNANN will definitely pluck that unlucky little creature's butt;
12. THE WIND.....anything blows wind, fans, coolers, hair dryers, vacuum cleaners...etc.;
13. CHEWING GUMS.....if we leave chewing gums somewhere and ANNANN finds the gums, she will peel off all of them by using her muzzle and paws, then 'chews'(I mean 'swallow') all the gums without spitting out;

***BUT ABOVE ALL, ANNANN'S FAVORITE IS MY BROTHER FRANK...
.....my brother FRANK likes teasing ANNANN; on the other hand, ANNANN enjoys biting him. They like to abuse... oh no, I mean "amuse" each other!
---
(2). ANNANN'S DISLIKES...
01. DOGFOOD.....in fact, I found some doggie cookies taste delicious;
02. MUSHROOMS.....ANNANN's tongue works as well as human thumb and index-finger. She picks mushrooms out of her bowel of fried rice even if mushrooms are cut into tiny dice;
03. MENTHOLATUM.....ANNANN hates its odor;
04. TAKING A BATH.....we have ANNANN taking a bath every week;
05. BEING KISSED.....though ANNANN likes kissing everybody;
06. BEING HOME ALONE.....be ware ANNANN pisses or does something even worse to your bed if you leave her home alone;
07. MY BROTHER FRANK'S AIR GUN.....basically, ANNANN loves peace;
08. SWIMMING.....ANNANN starts stroking BEFORE her feet touch the water, and she keeps stroking AFTER she is lifted up from the water;
09. BEING FOLLOWED.....ANNANN doesn't like wearing her collar and leash, so we follow wherever ANNANN goes for her safety and public hygiene (we have to collect ANNANN's... ANNANN's... You know, the "thing" after she has a bowel movement);
10. BIG-SIZED ANIMALS.....ANNANN trembles when facing tigers, buffalos, etc.;
11. CATS.....either ANNANN chases cats away or cats chase her away, it depends on which side is tougher;
12. HAIRCUT.....she doesn't want to go out anymore once her coat is cut short in summer, because she looks more like a HOTDOG;
13. STUFFED TOYS & GLOVES.....ANNANN growls at them, reason unknown;
14. LOOKING INTO A MIRROR.....ANNANN doesn't like "the Spitz in the mirror", because she wonders who that even more beautiful Spitz is...;
15. GOING TO THE VET.....still two blocks away, ANNANN jumps to the backseat burying her head, refusing to get out of my car.
16. BEING TRICKED.....we tricked ANNANN and she taught us a lesson called "Crying Wolf Too Often".

_/_/_/_/_/_/_/_/_/_/_/_/_/_/_/_/_/
_/_/_/_/_/_/_/_/_/_/_/
_/_/_/_/_/_/_/ <!!!SAVE STRAY DOGS IN TAIWAN AND AROUND THE WORLD!!!>

Question:
Do you know the fact that there are more than two million (2,000,000) stray dogs in Taiwan, while Taiwan has only an area 16 times smaller than France?

...If you would like to know what's happening to stray dogs in Taiwan;

....If you would like to help saving stray dogs in Taiwan;

.....If you would like to adopt stray dogs in Taiwan;

Please go to our "Save Stray Dogs In Taiwan" webpage:




And please also visit these K9 websites around the world: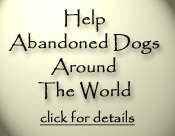 <!!!SAVE STRAY DOGS IN TAIWAN AND AROUND THE WORLD!!!>


P.S. Turn on your speakers if you love music as much as ANNANN does, and if this noisy midi song doesn't bother you.....
This song is "LIBIAMO NE' LIETI CALICI" from La Traviata.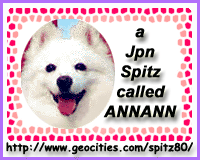 (Banner Exchange? Click ANNANN's Banner!)
"A SPITZ CALLED ANNANN"
*This is a no-kill non-profit canine website established on June/02/Y2K.
**Copyright © 2000 All ANNANN's photos appear on this website belong to ANNANN & CHEN. Always ask ANNANN & CHEN for permission before you use ANNANN's photos.
***Copyright © 1999, 2000 All 3D graphics and animations appear on this website are free samples provided by
www.animfactory.com


---