Susie and I became E-mail pals since last Spring in 2003.

We never met,
we didn't know much about each other,
yet our hearts communicated through our feelings for animals.

Although Susie passed away this Summer in 2004,
our friendship continues through her husband Bobby.

She's gone but never forgotten.






It all began with an E-mail.
Susie wrote, "Do you know that American Eskimo and Japanese Spitz are the same breed with different names?"
I replied "No, I don't think that..."
This debate went on and on.
Take a look at Susie's Apache and our ANNANN, I admit I cannot tell the difference between an AE and a JS.




One thing is for sure: Both this AE and this JS got silly humans.




Last Summer I told Susie that we Taiwanese people were fighting SARS alone because of health apartheid.
She tried to help by calling her congressman.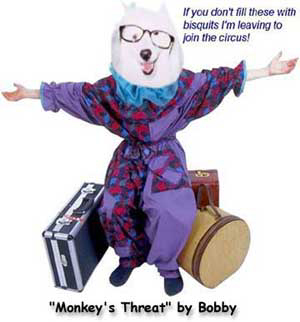 Even though Susie was on medication, she never lost her humor.
This April I received another E-mail:
" ...I got hit by a new virus about 2 weeks ago, it is called the CFT virus which stands for Chen from Taiwan lol. What ever you sent me made my email go crazy and it got stuck by the time I got through I had 346 emails of the same thing lol. You have to send it again but break it up into a couple of emails. Talk later Susie"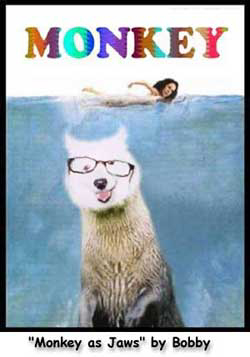 I e-mailed her telling her how sorry I was.
However, I tested and checked my computer several times. Nothing's wrong with it.
This "virus" incident raised a fuss about nothing.
Then I realized it was just a joke.
In her next E-mail, Susie used this

and this

...
Got me.

Susie passed away in her sleep this Summer.
Bobby made a picture "Gone But Never Forgotten" in memory of Susie with all the animals she loved.




We miss you, Susie.

CHEN
Autumn, 2004

<!!!SAVE STRAY DOGS IN TAIWAN AND AROUND THE WORLD!!!>

Question:
Do you know the fact that there are more than two million (2,000,000) stray dogs in Taiwan, while Taiwan has only an area 16 times smaller than France?

...If you would like to know what's happening to stray dogs in Taiwan;

....If you would like to help saving stray dogs in Taiwan;

.....If you would like to adopt stray dogs in Taiwan;

Please go to our "Save Stray Dogs In Taiwan" webpage:




And please also visit these K9 websites around the world: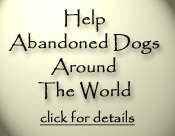 <!!!SAVE STRAY DOGS IN TAIWAN AND AROUND THE WORLD!!!>



"A SPITZ CALLED ANNANN"

*This is a no-kill non-profit canine website established on June/02/Y2K.
**Copyright © 2000 All ANNANN's photos appear on this website belong to ANNANN & CHEN. Always ask ANNANN & CHEN for permission before you use ANNANN's photos.
***Copyright © 1999, 2000 All 3D graphics and animations appear on this website are free samples provided by

www.animfactory.com


---