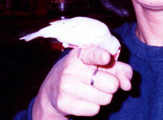 ANNANN's favorite bird LASSIE is a cute Paddy bird, in stead of a Rough Collie. How did LASSIE come to my family was a miracle. One night year ago, my mom just came out of the bathroom, a Paddy bird flew in through an open window. This little creature perched on my mom's shoulder and would't leave. We named this cute Paddy bird "LASSIE".
_/_/_/_/_/_/_/_/_/_/
_/_/_/_/_/_/
LASSIE likes to tease ANNANN and ANNANN wants to pluck LASSIE badly. I guess they both consider my dad the "King" and themselves the "Queen" of the house. And that means if we get them two together, either side will kick off a war. All we can do is seperate them. Oh, ANNANN never gets to pluck LASSIE so don't worry about her.



***Click HERE to go back.***