There are episodes in some webpages and new ones will be added gradually.
But in case you missed any of them,
here is a chance to read them all.
Here you are:

#11. SCENT OF A WOMAN
#12. KEEP AWAY FROM PETROLEUM
#13. SOME FACTS ABOUT ANNANN'S HEALTH
#14. BEAUTIFUL DAY
#15. HOW TO TAKE ADVANTAGE OF YOUR HUMANS
#16. HOT DOG
#17. HOW MUCH IS A JAPANESE SPITZ LIKE ANNANN?
#18. DOGGIE-PHOBIA

---

Does your dog smell?
Does your dog smell like a dog?
Or does your dog smell like something else other than a dog?
ANNANN smelled like a baby after a bath puffed with Johnson's Baby Powder.
Do you believe it?

Our grandma didn't. Well, sniffing is believing so we asked grandma to sniff ANNANN herself. At first grandma sniffed 15cm away from ANNANN, nothing. Then she sniffed 5cm away from ANNANN, still nothing. Her nose got closer and closer to ANNANN and finally, she buried her nose in ANNANN's coat and she murmured, "That's funny!? ANNANN doesn't smell like a dog at all!?"

Now, do you believe it?

Oh, by the way, ANNANN broke wind.
When ANNANN broke wind, she jumped up like a rocket launching itself into the space when the wind that she broke worked as a booster.
Does your dog break wind, too?
So... Do you believe dogs break wind?
I bet you do but our grandma doesn't.....



Go To Top
---

It is said that a dog has an excellent sense of smell 40 to 50 times keener than a human. No doubt about it. However, this talent can sometimes be a disadvantage to any dog, too!

As you know, ANNANN liked to hop in my car, sitting in my sister Celine's lap, going for a ride. Inevitably, we needed to stop by the gas station when the gas ran low. While filling up the gas tank, ANNANN always sneezed one after another with her spittle flying all over the glove compartment and the windshield. It got even worse if we lowered the windows. Anyway, she stopped sneezing after we drove far away from the gas station. And you should know how difficult it was to wipe away a dog's spittle, if your dog does the same thing in your car.

That reminds me of another kind of petroleum that ANNANN was allergic to and she simply hated it, the foul-smelling "cleansing naphtha", and we wouldn't let her get near it after this incident..... It happened years ago in one Sunday afternoon when we took ANNANN to the park, she stepped on a piece of chewing gum. We took her home to the bathroom, trying to remove the gum by using icy water, warm water, but that stubborn gum just wouldn't come off her paw. So we applied some cleansing naphtha to her paw to remove the gum, suddenly ANNANN began to threaten aggression and she actually bit our hands!!! We thought she was insane, and spent nearly half an hour with her in the bathroom till she finally calmed down and dozed off. And I can't remember how we removed that stubborn gum eventually.



Go To Top
---

Since we launched ANNANN's site, we got visitors signing ANNANN's guestbook and we received emails from people around the world all about ANNANN. Some of them asked us about ANNANN's health and we emailed back our replies one by one. Well, now we'd like to take this opportunity to reveal some facts about ANNANN's health. Hope ANNANN and her vet wouldn't mind.....

Don't think ANNANN was 100% healthy whenever you saw her playing happily. ANNANN did have a young girl's heart but as a matter of fact, her body was getting older and older, she frequented the vet and had been fighting against many illnesses all these years such as:
1. Liver problems;
2. Ear problems; (ANNANN is becoming deaf gradually)
3. Eye problems; (ANNANN got Cataracts)
4. Lumps and bumps;
5. Gum problems;
6. ANNANN lost her ovaries and her womb; (the vet removed them in time or else ANNANN would die)
7. Heart problems; (Annann has irregularities of the heart. The vet has warned us that we got to be prepared for it because, ANNANN will leave us at any minute)

We don't know what you would do if your old pet got so many illnesses. Here at ANNANN's site, we've told you what we've been doing all these years. We kept fighting against these illnesses with ANNANN and, ANNANN kept fighting against these illnesses BRAVELY.

Go To Top
---

We like the song "BEAUTIFUL DAY" by U2 very much. What a brilliant song! But this episode is not dedicated to a dog who likes U2, this episode is dedicated to a dog who's beautiful Saturday was ruined...

ANNANN liked to go to the National Park, that's her favorite place in Taiwan (well, she's never been to any place farther than Taichuning, central Taiwan). One early sunny Saturday morning, we drove to the mountain top of the National Park where people can get the best bird's-eye view of the whole Taipei area. We enjoyed the fresh air and the view, ANNANN enjoyed all the green green grass and trees and other humans' cars' tires. Sometimes ANNANN would came to us inviting us to play and run and chase each other with her. What a BEAUTIFUL DAY!

It's about nine-thirty, time to go home. ANNANN was still very excited, so we rolled down the front windows and let her sit on Celine's lap, with her head popping out and her upper body leaning out of the window. After I drove down-hill slowly for about 100 meters, ANNANN got more excited than ever, she spotted a dog trotting happily down-hill towards the National Nature Park. When we were 3 meters behind that little fellow, ANNANN began to "Arf Arf Arf Arf Arf Arf" loudly and excitedly, probably she was saying "You have a beautiful day too!!!" That poor little fellow was surprised and stunned for 3 seconds, all of a sudden she/he turned around running up-hill like hell and then disappeared faster than the wind at the end of the road.....

It's a "BEAUTIFUL DAY".....%?$#*@!



Go To Top
---

Woofwoof pups around the world, let great grand auntie ANNANN show you how to take advantage of your humans:

Case 1. If you want to get the best view when going for a drive:

You've got to take over the front seat. Puke your guts out all over the back seat (and the carpet for sure), then the front seat is yours for the rest of your life.

Case 2. If you want the "whole" thing your human is eating:

You've got to make your human drop it to you. How? Let your saliva drip over the thing? Lick the thing? Do the "begging" stunt? You don't have to make yourself look like a clown. Try this. Sneeze at the thing. Make sure the thing is within your "shooting range".

Case 3. If you want the things your humans are eating one after another:

Go to the human who got the least amount of the thing, for example, an almost finished ice-cream cone. Look at this human with your innocent eyes and make an "I'm a gooooood dog" expression, this human will possibly give you the rest of the ice-cream cone, because you look so cute. When finished, go to the 2nd human who now has the least amount of another ice-cream cone. Because the 1st human has given you the rest of the ice-cream cone, the 2nd human will probably do the same thing, just because you look so cute. Then go to the 3rd human, the 4th human, the 5th human, and so on.

Remember, don't go to the human first who got the biggest ice-cream cone. This human won't give it to you rightaway, you'll have to wait and wait and wait... Not until this human has almost finished.

Case 4. If you want to sleep in your human's cozy bed in winter:

Sneak into your human's blanket or quilt, then sleep on your human's feet. By doing so, you can keep your human's cold feet warm, and you can stay in your human's bed until next morning. Oh, don't say auntie ANNANN didn't warn you if you got kicked in the face.



Go To Top
---

Every Japanese Spitz has a beautiful thick white coat. So had ANNANN and she was very proud of it but, no in summer. Taiwan is more like a tropical island most of the time, so don't be surprised when you see a very-short-hair Husky or a very-short-hair Old English Sheepdog or... Of course, a very-short-hair Japanese Spitz, on the street in Taiwan.

It's Celine who gave ANNANN a haircut these years. Before Celine became confident about her skill in haircutting, it was ANNANN's vet who did the haircut job. We had to help the vet tie up ANNANN's muzzle so she wouldn't be able to bite him, then we would leave her to the vet and would go back to pick her up half an hour later. And the chaos began.

ANNANN got very upset about her summertime hair style. When we showed up in the vet's clinic, she struggled out of the cage (solitary confinement), jumped into my car as fast as possible so other dogs and people wouldn't see her except her own humans. It's like a jumbo pink raw hot dog (that's ANNANN's body) with a tiny stick of cotton candy (that's ANNANN's tail) dashed in to my car. We couldn't help laughing. We knew we had hurt ANNANN's pride but we just couldn't help laughing. We laughed so hard that we laughed our tears out and our tummies really hurt that I had to pull over my car until I stopped laughing, because I couldn't see the road with my eyes blurred with tears.

What's ANNANN's reaction? The jumbo pink raw hot dog with a tiny stick of cotton candy just looked away and wouldn't go out to play for the next two weeks.



Go To Top
---

It has been 101 days since ANNANN passed away on August 25th. Since I launched ANNANN's website on June 2nd 2000, I received several E-mails asking me the same question:

WHAT IS THE REASONABLE PRICE FOR A JAPANESE SPITZ LIKE ANNANN?

People asked me the same question even after ANNANN has passed away. Well, I answered by E-mail privately but, I think many of ANNANN's visitors would also like to know how much my dad paid for the JS pup called ANNANN 15 years ago. Actually, my father did not BUY her, he ADOPTED her and according to the custom he gave ANNANN's former owner two presents:

1 small pack of BROWN SUGAR + 1 small pack of RICE NOODLE
= 1 ANNANN the Japanese Spitz Pup.

That's less than US$1.00 dollars :-)



Go To Top
---
DOGGIE-PHOBIA@@


I got doggie-phobia since I was 6. I liked dogs on TV, dogs in the movies, dogs in stories, and I believed dogs were menfs best friends but I was afraid of real dogs, big and small. I still remember why. I was running towards the school bus early in the morning, our neighborfs German Shepherdfs big head popped out of the front door and growled at me. I was terribly frightened that I stumbled and fell into a ditch because, I thought the dog would jump on me. I struggled out of the ditch as quickly as I could and ran back home crying all the way. I didnft go to school that day. To me, dogs were menfs best friends but they were as horrible as tigers.

So you can imagine what happened when my dad brought ANNANN home. Everybody were very happy and excited, even me, but I dared not touch her. Whenever she trotted merrily up to me to show her warm feelings for me, I ran away. For the first three months, you could always see ANNANN chasing me here and there like a prey. Yet I still had to feed her, clean her pee and poo, take her out for a walk, bathe her on weekends, etc. After living with ANNANN for three months, I began to realize how fortunate we were to have ANNANN living with us, and she helped me overcome my doggie-phobia. I would have missed one of the best parts of my life if not for ANNANN. Dearest ANNANN, thank you!



Go To Top

_/_/_/_/_/_/_/_/_/_/_/_/_/_/
_/_/_/_/_/_/_/_/_/_/_/
_/_/_/_/_/_/_/

Question:
Do you know the fact that there are more than two million (2,000,000) stray dogs in Taiwan, while Taiwan has only an area 16 times smaller than France?

...If you would like to know what's happening to stray dogs in Taiwan;

....If you would like to help saving stray dogs in Taiwan;

.....If you would like to adopt stray dogs in Taiwan;

Please go to our "Save Stray Dogs In Taiwan" webpage:




And please also visit these K9 websites around the world: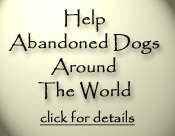 <!!!SAVE STRAY DOGS IN TAIWAN AND AROUND THE WORLD!!!>


P.S. Turn on your speakers if you love music as much as ANNANN does, and if this noisy midi song doesn't bother you.....
This song is "O MIO BABBINO CARO" from Gianni Schicchi.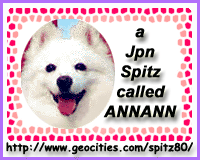 (Banner Exchange? Click ANNANN's Banner!)
"A SPITZ CALLED ANNANN"
*This is a no-kill non-profit canine website established on June/02/Y2K.
**Copyright © 2000 All ANNANN's photos appear on this website belong to ANNANN & CHEN. Always ask ANNANN & CHEN for permission before you use ANNANN's photos.
***Copyright © 1999, 2000 All 3D graphics and animations appear on this website are free samples provided by
www.animfactory.com


---